New USDA Discoveries Led to 180 New Inventions, Include Flour that Prevents Weight Gain, Protections from Disease for U.S. Troops, Turning Grass Clippings to Energy

WASHINGTON, April 23, 2014 – Agriculture Secretary Tom Vilsack today announced a new report on scientific breakthroughs discovered by USDA researchers that led to new patents and inventions with the potential for commercial application and potential economic growth. Innovations included in the report range from flour made out of Continue reading →

The USDA announced their intent to help fight against pork diseases, however Pork Checkoff Vice President of Science and Technology Dr. Paul Sundberg says the implementation of that plan has yet to be drawn out.

The results are in from the storms in late February and March and they show the reservoirs are a little less empty. The Department of Water Resources raised the state water project allocations from 0% to 5%.
California's March Intentions estimates were based on a survey of more than 2500 California farmers. The numbers reflect planting intentions as of March 1st. Sabrina Hill has the numbers.
CDFA: BCTV Report for April 1-18, 2014Fresno County
At the end of March, a beet leafhopper (BLH) hatch had taken place in the Tumey Hills area, on the south side of Mannning Avenue. Counts were on average 7-9 2nd and 3rd instar nymphs and1-3 adult BLH per 10 sweeps.
There was also a BLH population north of Continue reading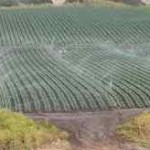 The propane farm incentive program had record high enrollment in 2013 showing significant fuel reduction savings. Over 300 participants enrolled and Propane Education and Research Council Director of Business Development and Marketing Mark Leitman says that the top technology enrolled in the program was propane irrigation engines.

With a lot of anxiety about how PEDv is affecting hog numbers and market prices there are many different opinions of where the hog supply is at. The next USDA pig report isn't until June and Paragon Economics President Steve Meyer says our reports are usually fairly accurate, however this deadly virus have taken those numbers out of the equation.
Required Reporting of Cases Latest Measure to Slow Disease Spread

St. Paul, Minn., April 18, 2014 – Agriculture Secretary Tom Vilsack today announced that in an effort to further enhance the biosecurity and health of the US swine herd while maintaining movement of pigs in the US, the USDA will require reporting of Porcine Epidemic Diarrhea Virus (PEDv) and Swine Delta Coronavirus in order to slow the spread of this disease across the United States. USDA is taking this latest action due to the devastating effect on swine health since it was first confirmed in the country last year even though PEDv it is not a reportable disease under international standards. PEDv only affects pigs and does not pose a risk to people and is not a food safety concern.
"USDA has been working closely with the pork industry and our state and federal partners to Continue reading →

WASHINGTON, April 17, 2014 – The U.S. Department of Agriculture (USDA) today announced the availability of approximately $66 million in Specialty Crop Block Grants to state departments of agriculture for projects that help support specialty crop growers, including locally grown fruits and vegetables, through research, programs to increase demand, and more.
The historic support provided by the Agricultural Act of 2014 (Farm Bill), will Continue reading →
Today's issue of Citrus Industry This Week from Florida includes a report on bicarbonates and HLB, information on citrus root enemies and the announcement of this year's Citrus Expo seminar theme. Want to learn more? Click here to subscribe free and view the current issue. Click here to subscribe to the monthly Citrus Industry magazine.